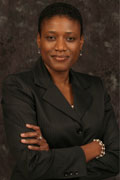 Cassandra Q. Butts
, Senior Vice President for Domestic Policy, Center for American Progress. Sometimes identified as the most senior domestic policy advisor of
Barack Obama
.
Formerly senior advisor to Rep. Richard A. Gephardt (D-MO) and served as the policy director on his 2004 presidential campaign.

principal advisor to Gephart on matters involving the judiciary, financial services, and information technology

Assistant Counsel for the NAACP Legal Defense & Educational Fund

civil rights policy and litigated voting rights and school desegregation cases

Legislative Counsel to Sen. Harris L. Wofford (D-PA).
Education: Harvard Law School and the University of North Carolina at Chapel Hill
Ad blocker interference detected!
Wikia is a free-to-use site that makes money from advertising. We have a modified experience for viewers using ad blockers

Wikia is not accessible if you've made further modifications. Remove the custom ad blocker rule(s) and the page will load as expected.